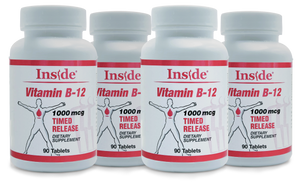 B vitamins play a vital role in maintaining good health and well-being. As the building blocks of a healthy body, B vitamins have a direct impact on your energy levels, brain function, and cell metabolism.
360 tablets per order - 5.5 cents per tablet
Active Ingredients: Vitamin B-12 (as cyanocobalamin), 1000 mcg
Other Ingredients: Dibasic Calcium Phosphate, Stearic Acid, Cellulose Gel, Hydroxypropyl Methylcellulose, Magnesium Stearate, Croscarmellose SodiDibasic Calcium Phosphateum.
INSIDE BRANDS VITAMIN B-12 TABLETS have NO COLORS ADDED, NO ARTIFICIAL FLAVORS AND NO PRESERVATIVES.  This brand is GLUTEN-FREE and contains NO STARCH and NO YEAST.
Warning: Keep this product out of the reach of children.  In case of accidental overdose, call the doctor or poison control center immediately.